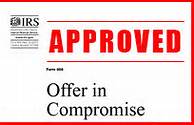 When you owe the IRS for any unpaid tax liability our tax attorneys review your case to determine what the best resolution of the debt will be in your particular situation.  Generally, there are three alternatives that we consider to settle an IRS debt.  We can set up an installment plan (payment arrangement), discharge the tax debt in bankruptcy, and / or make an Offer in Compromise ("OIC") to the IRS.  An OIC is a settlement to pay the tax debt between the taxpayer and the IRS for less than the original amount owed, plus any penalties and interest that have accrued.
Taxpayers must be able to qualify for an OIC.  We have worked with the IRS on hundreds of OIC's and know the guidelines.  The IRS has various "formulas." that it uses to determine if a taxpayer qualifies for an OIC.  It is at there discretion to approve or deny any particular case.  The Offer is typically not subject to review by the courts.  However, in certain circumstances we can set up an OIC such that it is subject to judicial review.  The formulas, when used correctly, result in taxpayers reaching settlements with the IRS. If these formulas are not applied properly, your offer could result in gross overpayment or worse—be rejected!  If your offer is rejected the collection process begins all over again.
The Lively Law Group, PC exclusively solves tax problems for their clients and will skillfully prepare your Offer in Compromise, which is an allowable, legal means of resolving federal tax liabilities.
The government wants to settle outstanding tax liabilities and get taxpayers back into the system.  The "OIC" process was developed by Congress to help facilitate the IRS in collecting outstanding IRS Tax Problems by offering taxpayers a one-time opportunity to quickly eliminate their IRS Tax Problems for a fraction of what was originally owed. The Offer in Compromise continues to evolve as Congress passes new laws making this the most effective means for the taxpayer and the IRS to permanently resolve your IRS Tax Problems.  This is why it is important that you choose a tax professional that practices extensively in this area and knows the most current rules.
Our Tax Attorneys will prepare all the necessary forms for your OIC and represent you throughout this complex process of filings and negotiations with the IRS.  Completing the forms correctly the first time and properly negotiating your case right the first time is usually what gets your approval.
Our first job is to educate the taxpayer with regard to their particular situation.  You need to know your choices and the downside of each choice, if any.  Then and only then can you make an intelligent decision with regard to the proper debt resolution program to choose.   We want you to know that not all offers are accepted, but the offers we move forward with in our practice have a high degree of success.  This is a claim that the "OIC Mills" out their cannot honestly make with regard to the offers they submit.   We are Attorneys and CPA's and have high ethical standards that we must follow.  Our practice will aggressively represent you and have your best interest in mind.
The Lively Law Group, PC has a proven track record of getting our Client's Offers in Compromise accepted and thereby saving our clients thousands of dollars. If, on the other hand, we believe that filing an Offer in Compromise will simply waste your time and resources, we will discuss in detail, other resolution strategies to minimize and fully resolve your tax liability. In some instances we may suggest a combination of resolution strategies to resolve the liability in question, so time and energy are not wasted, thereby increasing additional penalties and interest.
In any instance or for any liability, no matter how large or how complex, you can depend on our  firm to give you honest advice, and needed protection from levies or wage garnishments while we customize a resolution strategy that will free yourself from your tax liability. At The Lively Law Group it is our goal to deliver peace of mind, one client at a time, by personally guiding you through the Offer in Compromise process or any other resolution that we consider to be a better avenue for your individual financial situation.  It is out job to lift a big weight off your shoulders and put it on ours.
FREE INITIAL CONSULTATION – Call 714-708-2593 or leave a message on our Contact Page