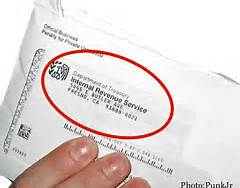 A taxpayer can be selected for an audit whether or not they actual have a problem with their tax return.  Audits are initiated in numerous ways.  First, you can be randomly selected.  Second, you can be selected by the IRS scoring system that is assigned to every return.  Finally, you can be selected due to informant.  However, it does not necessarily matter how you are selected, but when you are if you are not experienced with this type of matter an IRS audit can be a scary situation.  Getting a letter in the mail from the IRS is rarely viewed as a good thing.  In fact it strikes panic into most taxpayers.  Most times it is never a good idea to represent yourself in an audit if you are not equipped to understand the tax law and be able to use them to effectively defend yourself.
If you are audited by the IRS this year, you wouldn't be alone. Over 1.7 million individuals are audited by the IRS each year, or about 1.5 percent of all taxpayers. Statistically, the IRS Audits very few tax returns. Most tax returns singled out by the IRS for audit contain either: tax deductions that appear to be too high in relationship to the person's income; tax items that are erroneous; tax items that require proof or an explanation; or are on the IRS' list of hot tax issues. It is important that the Tax Audits tax returns effectively, and the IRS puts a general fear in all taxpayers of being audited to encourage voluntary compliance with the income tax laws. The U.S. tax system depends on voluntary compliance. With today's computers there are now more ways than ever that the IRS can monitor your tax compliance.  Certain types of taxpayers tend to be more heavily audited.  For example, according to IRS statistics the most heavily audited returns contain a Schedule C (Sole proprietorship) with gross revenue exceeding $200,000.
Our practice has years of experience defending taxpayers in their audits. Each case is handled individually, and analytically reviewed and prepared for by an experienced Tax Attorney or CPA. Our expertise is a result of our years of experience defending our clients against the IRS.
If your matter has already been audited and you did not get the result you expected, we can appeal your case to the IRS Office of Appeals.  Our experience tells us that we get much better deals at the Appeals Office than is usually achieved at the audit level.  The Appeals Officers at the IRS considers the risk of litigation when they review your case.  This is not true at the audit level.  If you are considering an Appeal let us give you a Free Initial Review of your case to determine if your matter is suitable for an Appeal.
FREE INITIAL CONSULTATION – Call 714-708-2593 or leave a message on our Contact Page